I am super excited to share this quilt with you! I got to work with the wonderful people at Robert Kaufman to make a new quilt using the amazing palette that is Kona cottons. Why? Because Kona is turning 30 and they're having a party! They want to give you a present!
Quilt first, present later.
When I sat down to make Rock Jetties, I knew I wanted to make a row quilt. I had been having a lot of fun playing with this style in both my Somewhat Herringbone quilt and my Fresh Pack quilt. I love blue and gray and I usually head to these colors first. For this quilt, where I could use ANY of the many Kona colors, I wanted to ratchet up the intensity a little. I went to tide pools for my inspiration, and thought of the shore where I grew up and the beaches on a recent trip to Israel. The ocean's darker deeper colors are brightened up with seaweed and reflections of intense blue skies. I wanted to get a little bit of all of that in this quilt. The Kona colors I used are silver, iron, bonsai, cactus, aloe, ice frappe, celestial, prussian, indigo, aqua, azure, and graphite.
My quilt was quilted by the amazing Angela Walters, which is giving me gah-gah eyes to this day. It is unbelievably good. The quilt has big chunks of geometric color, and I love how the quilting enhances the organization of the shapes and tells a more detailed story.
The pattern for Rock Jetties is available free on the Robert Kaufman website, right here.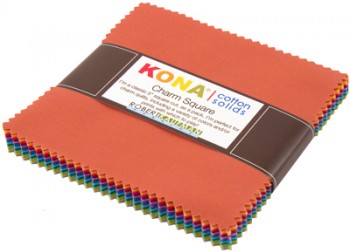 Now the present. You might know that Kona just came out with new colors, which brings the total number of Kona cottons up to 303. (Woah.) We're giving away a charm pack of the new colors – just leave a comment on this post with your favorite Kona color to be entered to win! Entry is only open for 24 hours and will close tomorrow at 10:00 AM US eastern time.
I am just the third stop on a 30 stop blog tour of all the amazing quilts that Robert Kaufman and some seriously talented people have created for the Kona celebration. I particularly love the quilts by Carrie Strine and Lady Harvatine. And, I'm pretty sure those two quilts love each other too. They are page mates in the 30th Anniversary look book!
Follow the whole tour! Much more to see!
Week 1:

Saturday, November 1st: Johanna Masko

Sunday, November 2nd: Alyssa of Aria Lane

Monday, November 3rd: Dorie of Tumblingblocks

Tuesday, November 4th: Megan of Canoe Ridge Creations

Wednesday, November 5th: Daniela of Cozy Quilt Designs

Thursday, November 6th: Faith of Fresh Lemons Quilts

Friday, November 7th: Anita Grossman Solomon

Saturday, November 8th: Debbie of Esch House Quilts
Week 2:

Sunday, November 9th: Alex of Teaginny

Monday, November 10th: Darlene Zimmerman

Tuesday, November 11th: Nichole Ramirez

Wednesday, November 12th: Rita Hodge of Red Pepper Quilts

Thursday, November 13th: Lee of Freshly Pieced

Friday, November 14th: Julie of Jaybird Quilts

Saturday, November 15th: Latifah of The Quilt Engineer
Week 3:

Sunday. November 16th: Elizabeth Hartman

Monday, November 17th: Erica of Kitchen Table Quilting

Tuesday, November 18th: Karrie of Freckled Whimsy

Wednesday, November 19th: Valori Wells

Thursday, November 20th: Marilyn of Quilt Moments

Friday, November 21st: Cortney Heimerl

Saturday, November 22nd: Shayla and Kristy of Sassafras Lane Designs
Week 4:

Sunday, November 23rd: Shea of Empty Bobbin Sewing

Monday, November 24th: Carrie Strine

Tuesday, November 25th: Rachel of Stitched in Color

Wednesday, November 26th: Liz of Lady Harvatine

Saturday, November 29th: Carolyn Friedlander
Week 5:

Sunday, November 30th: Elizabeth of Don't Call Me Betsy

Monday, December 1st: Emily of Carolina Patchworks

Tuesday, December 2nd: Ken Kaufman

Wednesday, December 3rd: Grand Finale!